When it comes to choosing a paint colour for your kitchen, there are a few things to keep in mind. First, you want to consider the overall look and feel of your home. What colours are adjacent to the kitchen? How much natural light does the space get? Once you've taken all of that into account, you can start narrowing down your options. With so many colours and shades to choose from, it's hard to decide where to begin. Here are a few tips to help you pick the perfect paint colour for your kitchen.
Consider the overall tone you want to create in your kitchen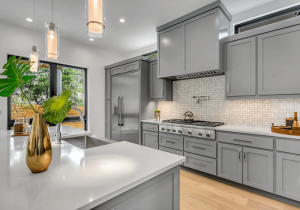 When it comes to creating the perfect mood in a kitchen, it's all about finding the right balance between atmosphere and function. Think of inviting, warm colors that help you feel relaxed while still being efficient as you prepare meals. Maybe a deep teal on the walls and an intricate backsplash with cooking-related visuals. Acknowledging the overall tone you want to create in a kitchen is key to achieving an inviting, beautiful atmosphere.
Choose colours that complement your countertops, cabinets, and flooring
When choosing colors to complement your countertops, cabinets, and flooring, it's important to consider both the surrounding wall colors and the atmosphere you're trying to create in your kitchen. For a modern, trendy look, try coordinating colors that are vibrant or trending in the design world currently. If you want a rustic feel, contrast dark woods with lighter colors like whites or grays. Alternatively, if you prefer a classic style, neutrals are always a safe bet that could provide a timeless look for years to come. It's also beneficial to keep in mind colors that interact properly with natural light so that your entire kitchen appears brighter during the day. In any case, carefully picking out complementary colors can go a long way toward creating an amazing kitchen design!
Natural lighting and space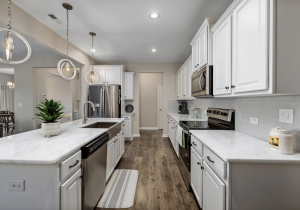 When planning to paint your kitchen, considering the natural lighting is one of the most important factors. Depending on the amount of natural light available, you may want to opt for lighter shades that will brighten up the space. If your kitchen has a lot of windows, bright and vibrant colours can be especially effective in making it look bigger and more open. On the other hand, darker shades can help make a small kitchen appear cozier and more inviting.
No matter what type of kitchen you have, the right paint colour can make a big difference in the overall look and feel of your space. By considering all these factors, you can pick the perfect shade to bring out the best in your kitchen design! Contact Jessica's Painting in London, Ontario for professional painting services.