If you're looking to update your home's look and give one or more of its rooms a bit of an upgrade, two common options are wallpaper installation and full room painting. Both can make the space feel completely different, with each approach having its own advantages and disadvantages. So how do you decide which one would be best for you? In this post, we'll break down the differences between wallpaper installation versus applying a fresh paint job to help you choose which option is right for your project.
Wallpaper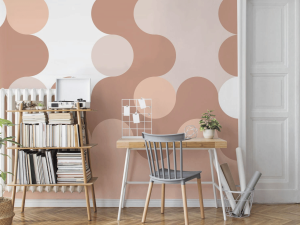 When it comes to wallpaper installation, this option can be more expensive than painting since you are paying for the cost of materials and labor. Additionally, some wallpapers may require professional installation due to their delicate construction or they can be tricky to hang on your own. On the plus side, wallpaper has a very unique look that is often eye-catching and timeless. Plus, it's easy to find patterns and textures that will match your home's décor perfectly. The downside is that if something does happen to the paper itself such as a tear or discoloration, replacing it can be difficult without removing all of the other panels in order to match new ones exactly.
Wall Painting
When it comes to painting, you can find a wide variety of colors, sheens and textures that will also help complement the décor in your home. Additionally, it is usually much more affordable to have a room painted than to install wallpaper. Paint generally only requires one or two coats, so you don't have to invest as much time or money into the project compared with wallpaper installation. However, paint can wear down over time due to regular use and cleaning, meaning that you may need to repaint more often in order to maintain its fresh look.
How do I find a good wallpaper installer
No matter which option you choose, it's important to find a trustworthy and experienced wallpaper installer or painter. Ask friends, family, and neighbors for referrals, read reviews online, and meet with the professionals you're considering in person before making your final decision. This will help ensure that the job is done right and that you get the results you're looking for! Jessica's Painting provides wallpaper installation for homes and commercial properties. Contact us today for an estimate.
Tips on finding a reliable painter
Look for a professional who has years of experience in the industry.
Ask around to see if anyone you know has had any success with a particular painter
Read online reviews and check references before making a decision.
Get an estimate from each potential contractor so you can compare prices and services offered
Make sure that they have the necessary licenses, certifications, and insurance coverage before hiring them.
Ask questions about their process, how long it typically takes to complete projects, and how they protect furniture and other items during installation or painting work.
Once you make your choice, set up a contract outlining all of the details of the project. Be sure to review it carefully and ask any questions you may have, so that there won't be any surprises once work begins.
In conclusion, both wallpaper installation and full room painting are viable options for updating the look of your home. Ultimately, the choice between them depends on several factors including budget considerations and desired aesthetics. Whichever option you choose, your space will be transformed into something special and unique giving it a whole new look.